Gas and HC Liquid Treating
---
Propak can provide the design, engineering, and manufacturing of various natural gas treating technologies for contaminant removal such as H2S, CO2, mercaptan, mercury, and more.
Amine Sweetening Units (H2S and CO2 Removal)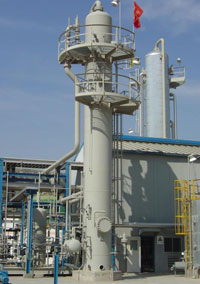 Propak has extensive experience in the design, engineering, and manufacturing of modular type amine sweetening units. Propak has completed amine sweetening units ranging from a gas capacity of 1 MMSCFD to 400 MMSCFD and amine circulation rates from 1 USGPM to 5000 USGPM.
Typically, they are operating from 150 psig to 1400 psig and are designed to achieve less than 4.0 ppm H2S, and/or less than 20 ppm to less than 2.0 mol% CO2 outlet gas.
Propak has experience with various amine and solvent technologies such as:
DEA
MDEA
DGA
mixed amines
proprietary amines (various)
sulfinol
selexol
Non-Regenerative Sweetening Units
Propak has the technical experience in rating, design, engineering, and manufacturing of non-regenerative treaters for removal of small quantities of H2S and mercaptans from natural gas or hydrocarbon liquids.
Typically, non-regenerative treaters are used for less than 1 MMSCFD up to 50 MMSCFD, with H2S or mercaptan content from 4 to 100 ppm.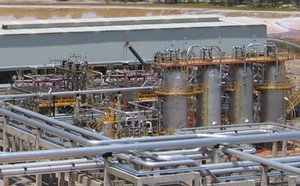 Molecular Sieve CO2 and Mercaptan Removal Units
Molecular sieve units are typically used to remove CO2 and mercaptans when they exist in small quantities in the gas and/or where very low content is to be achieved.
Mercury Removal Units
Propak has the technical experience in rating the design, engineering and manufacturing of mercury removal units typically required when mercury is present in the gas, up stream of LPG and NGL recovery units, and where brazed aluminum BAHX and turbo expanders are present.
Propak has experience in building mercury removal units with molecular sieve technology as well as non-regenerative, sulphur impregnated, activated carbon bed technology.
Natural Gas Liquid Treating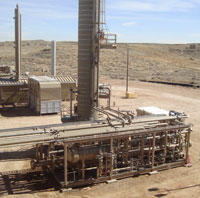 Propak has completed the design, engineering, and fabrication of natural gas liquid treating up to 50,000 BBL/D capacity utilizing liquid-liquid amine contactors, stirred reactors, and molecular sieve technologies.
In the area of natural gas liquid treating, Propak has experience with the following technologies:
amine hydrocarbon liquid treating (for H2S, mercaptan, and CO2 removal)
molecular sieve hydrocarbon liquid dehydration